Do you fin
d yourself outsourcing control by placing power in external sources rather than guiding your life from your own
inner
wisdom and intuition
?

Do you wish to become the
ultimate
alchemist
of
your own reality?
Intuitive tarot is a powerful mirror, reflecting back to you the truth you already hold within.
Magic one, you are here because you know there's more to life than the physical and tangible.

We live in a complex, multi-dimensional universe and you are part of that miracle.
The wisdom you are seeking is already within you

You know your truth, you've just forgotten who you are

No one can or should make your decisions for you

No one can tell you what your purpose is in this life

It's time to learn to trust your intuition, your inner compass
Tarot is the perfect divination tool to guide you through the uncertain times we currently face and the awakening stages we all inevitably go through.


An immersive four week journey...
Sign up to receive immediate access to all course content
Welcome | Your initiation
Your journey begins here with a warm welcome from me, Bronya Aruna, along with an overview of your journey, an initiation ritual meditation, and your first interactive journal entry, before we dive into Week 1.
In Week 1, we explore the mystery of tarot and how it works as a divination tool to confirm your decisions and life direction. We break down the structure of the tarot,
look at how to choose the perfect deck for your journey, and begin connecting to the cards. We also look at the interplay between your lifestyle and intuition, and the enhancements you can make to deepen your inner knowing.
In Week 2, you learn the true depth of tarot and some of the many layers you can add to your readings. We explore how to prepare to read intuitive tarot and interpret the cards from the heart. This is also the week you get
your Tarot Lightcodes! I am gifting you a special interactive mini course with descriptions and keywords for every single card to assist you in your tarot journey.
In Week 3, we look at your personal responsibility as an intuitive tarot reader. There are some important things you need to know to protect yourself and establish your divination boundaries when working across dimensions.
We then cover how to effectively consult the tarot which begins with asking the right questions. You will explore types of simple spreads and try them out to provide divine guidance for yourself, and then maybe even for a friend or family member.
In Week 4, we explore how to become a powerful and confident reader. We
look at your role as a storyteller and visionary as you read a spread; seeing and expressing the story in the cards. This is an art in itself as the cards can take on specific meaning and greater depth when woven into the emerging narrative.
We also look at more complex spreads and how to be in complete trust of the messages that are coming through for you.
Closing circle | The divine unfolding...
The final part of our journey together is our closing circle 'The divine unfolding'. Here I invite you into the Ziva portal one last time to wrap up with love and intention. You have a final opportunity to journal about your experience, you can then download your completion certificate as a token of your initiation. I also offer you a parting gift and an invitation to follow the call and continue your journey in intuitive tarot.
Highly practical learning
When learning intuitive tarot, practice is everything; in this course I share practical demonstrations and invite you to embed your learning through interactive activities, practices and readings.
Beautifully crafted content
This is not a DIY course design; it's a professionally crafted journey to help you learn, embed and retain knowledge through proven educational strategies and methodologies. We've use a balanced mix of divine wisdom, rich media and a lot of love.
A magical process that works
What I present in The Initiation is the process I followed to teach myself intuitive tarot; it is a download of my own tried and tested process that took me from a total beginner to running a thriving tarot business.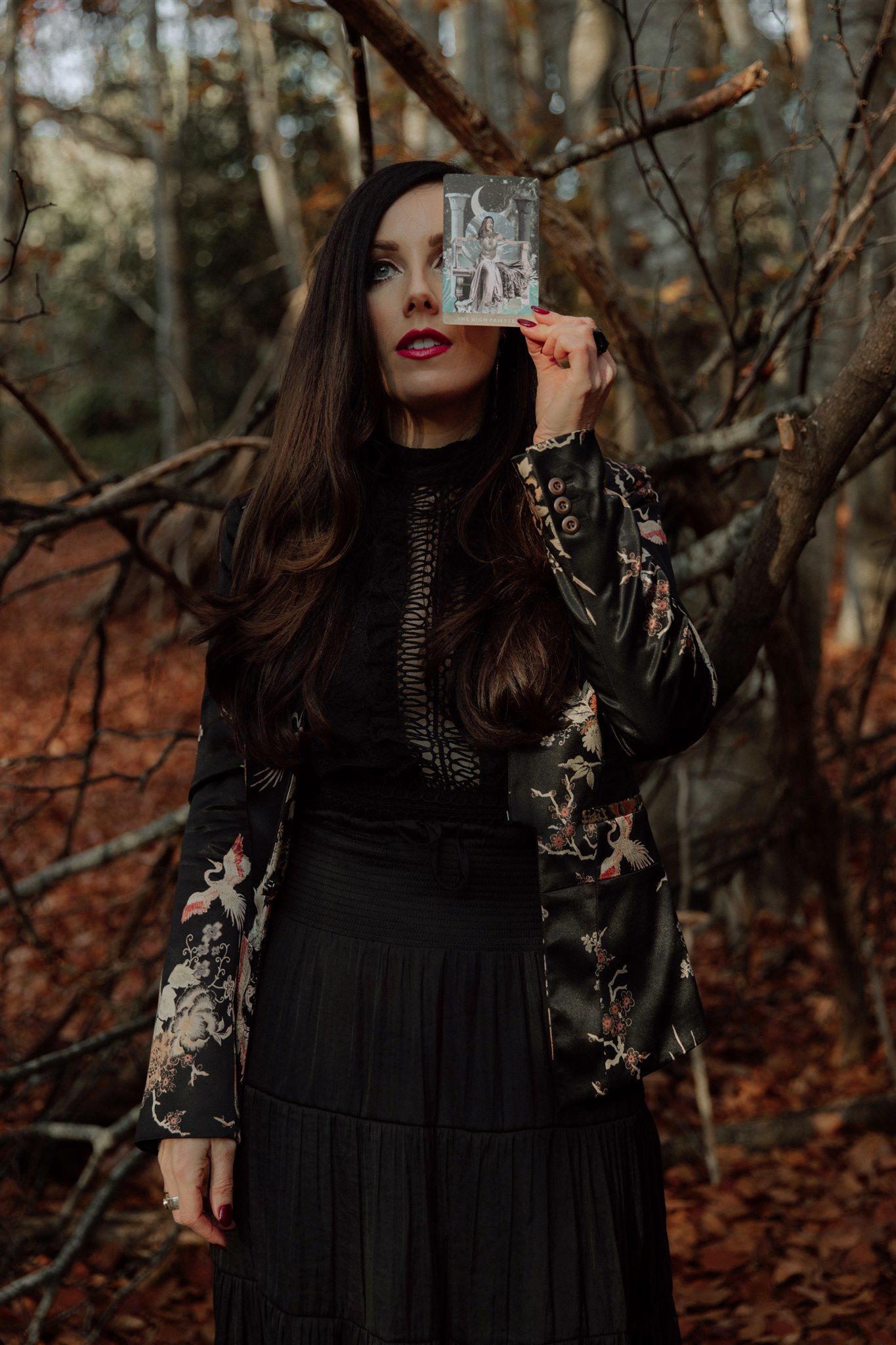 Each week you will receive...
A welcome video to set the scene for the week

An interactive content module to delve into the art of intuitive tarot (divine wisdom, video demonstrations and activities)

A series of practices to awaken your intuition

An interactive journal to keep track of your progress and stay clear on your intentions
I also gift you...
Lifetime access to the Tarot Lightcodes, an interactive mini course to help you connect with the meanings of all 78 cards in the tarot deck.
If you are awakening to the truth that
you are the creator / alchemist
of your own reality
...
If you want to
deepen your connection
to your own intuition
...
If you are
seeking
confirmation
for your decisions and life choices...
If you
desire to
read tarot
for yourself, your family and friends...
If you have a dream of
one day providing
paid tarot readings
...
The Initiation is calling... will you follow the call?

A journey jam-packed with value!
Everything I wish I had access to at the start of my own tarot journey...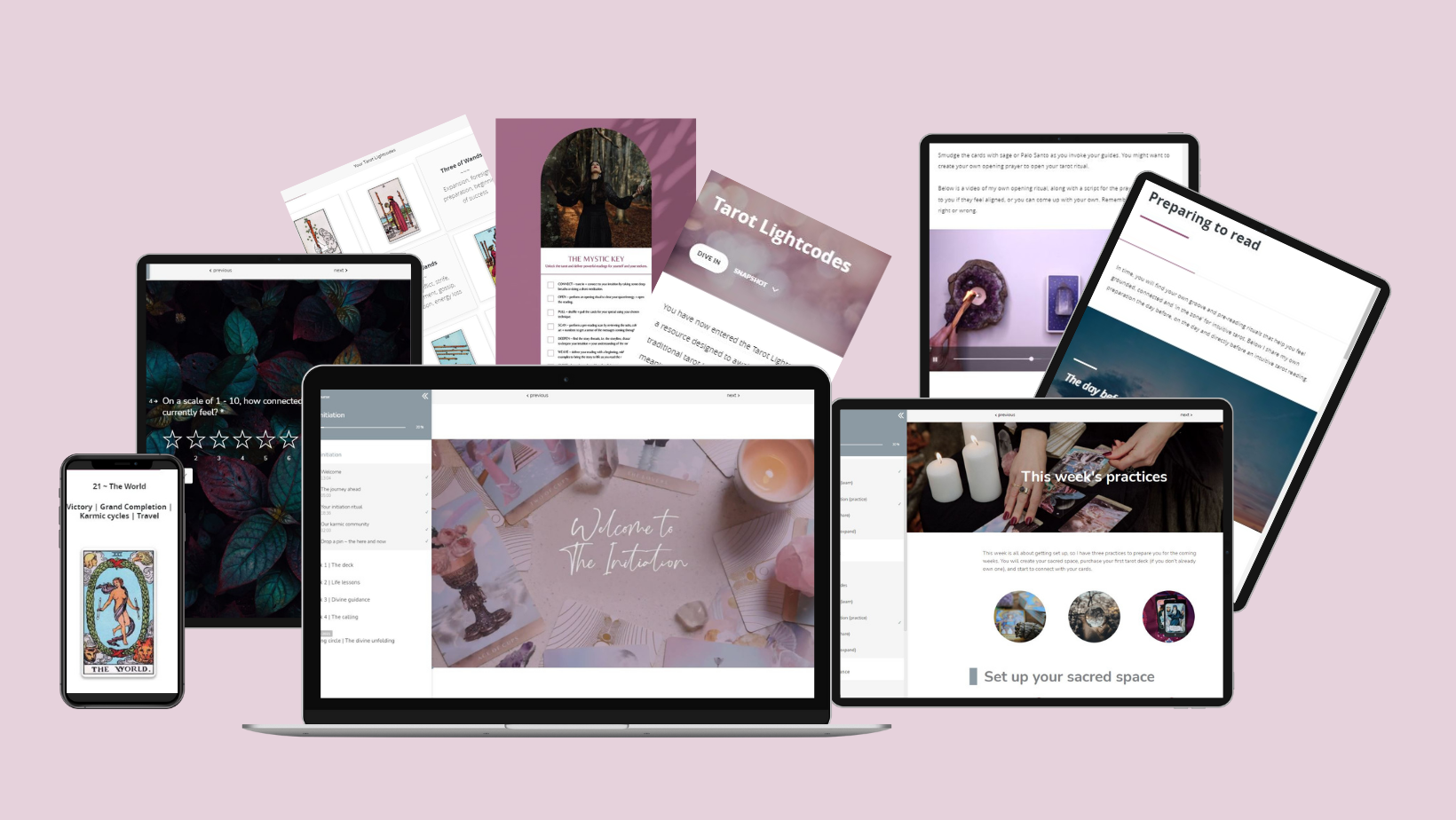 Over three hours of videos + demos
Weekly practices + reflection to support your learning journey
Easy-to-follow maps, methods + techniques
"The Initiation is so much more than a course... it's a magical journey to another world."

"Bronya not only guides you through the beautiful art of intuitive tarot, she offers you a portal to go within and connect with your deepest self."

"The Initiation is not just a course, it is a journey into discovering who you are as a tarot reader and

as a spiritual being. I would highly recommend it to one and all. I can't wait to take more courses

from Wild Lotus Tarot!"

I'm Bronya Aruna, you may know me as Wild Lotus Tarot
I've always believed in magick. For as long as I can remember I've been fascinated with the mysteries of life and what lies beneath the surface. With a moon in Scorpio, I'm drawn to shadow work and the deeper existential themes. I believe we incarnate on earth for the purpose of soul evolution through expanding our consciousness.
Part of my journey in this lifetime involves guiding others to this truth. Guiding you...
I am an intuitive Tarot reader, Reiki energy healer and certified new paradigm love, relating and embodiment coach. My own journey of awakening and healing has led me to this path through many twists, turns and lived experiences.

I was guided to intuitive tarot suddenly and unexpectedly through a unique series of synchronicities. I believe that you don't find tarot, tarot finds you, when the time is right.

With over 50k+ subscribers and close to 5 million views on YouTube, I have proven that you can begin a successful tarot journey at any time (and quickly) if you follow the call.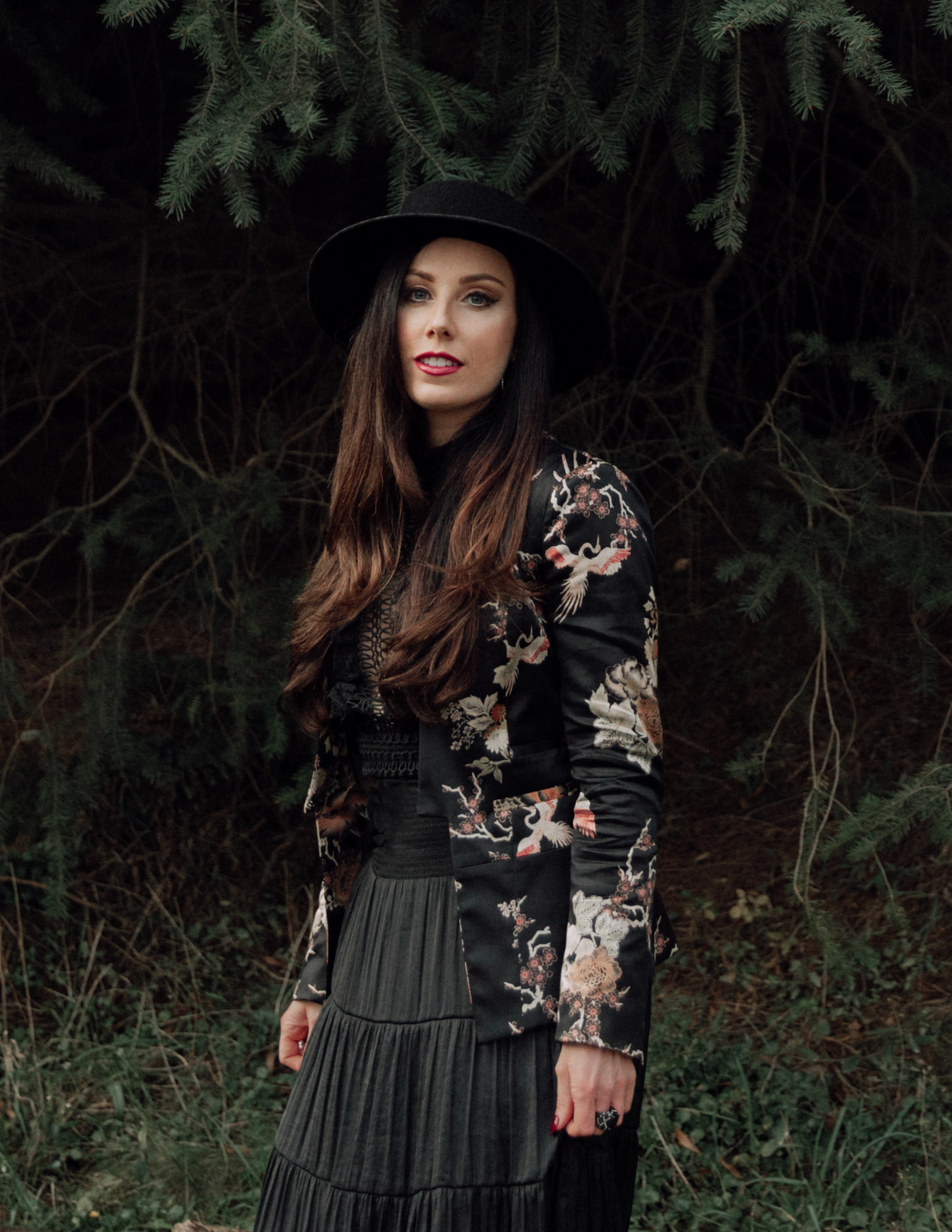 Kind words from my beautiful tarot clients...
I can't thank you enough for your reading! I know I will be using you in the future for more readings as well!! Keep doing what you are doing cause you have such an amazing gift! I can only hope I can be just as great as you!
Violet, USA
An intuitive Tarot reading was one of the best investments into my wellbeing and alignment with my path forward. Bronya is non-judgemental, personal and warm and has a deep spiritual understanding of the significance of life events and divine timing.
Elizabeth, UK
The reading was exactly spot on... isn't that so crazy how spirit communicates through you in such a perfect way? I am so grateful for your gift and for finding you. You have such a good and pure energy about you... It is why I was so drawn to you.
HEATHER, USA
This course will help you easily
make life decisions with confidence and clarity
to move you into alignment with your truth...
It will help you
reclaim you power
by guiding yourself rather than relying on external sources of confirmation...
It will help you
feel empowered and confident
knowing you are connecting with your higher self and guiding yourself from this place instead of ego and fear...
Tarot is an amazing tool for gaining clarity and confirmation for the truth we cannot access due to conditioning or fear.

This course is for you if...
You are fascinated by tarot but have never really learned to read the cards

You are ready to deepen your connection to your intuition and inner knowing

You know the wisdom you seek is already within you

You are seeking a tool to confirm your inner guidance

You are ready to weave tarot magic into your own life and maybe even offer readings for your family and friends
It's not for you if...
You believe you have no control over your reality

You only believe in the physical, tangible reality

You are not open to the idea of universal law and energy

You believe a tarot deck is just cards and can't possibly provide guidance

You hold negative beliefs about working with divination tools
Magic one...
This course is for you if you want to take the power back in your life. The wisdom you seek is within you, The Initiation gives you the tools to access your truth and use it guide yourself to your best life path.
Receive the most powerful guidance by unlocking your inner wisdom and connecting to Source.

This course holds everything you need to know to get started reading intuitive tarot. You will learn how to perform simple readings for yourself, your family and friends with confidence and creativity.

Come on a journey of magick... Join me in The Initiation today.
Everyone has a unique gift, you simply need to find yours

Created with